News
In 75th Year Of Independence, Chess Olympiad Has Come To Its Home Country: Modi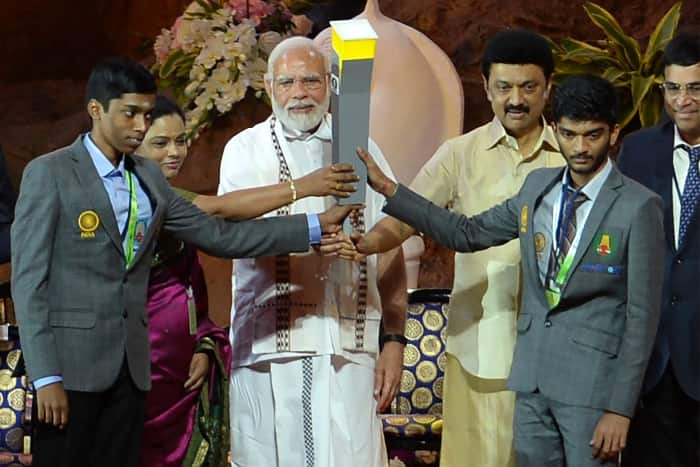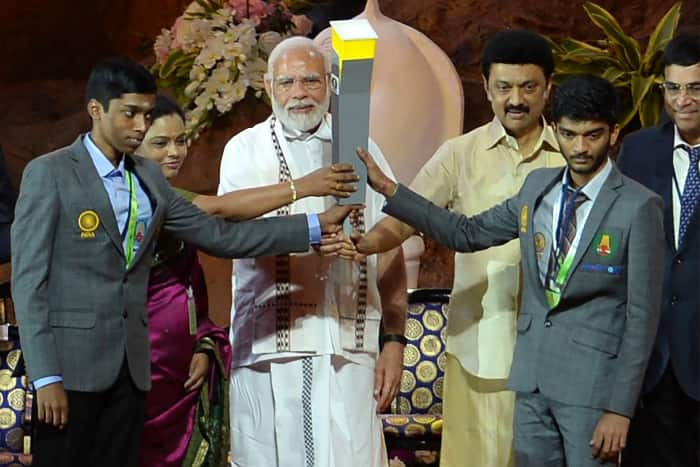 Chennai: In the year when India is going to celebrate the 75th year of Independence, it is apt that the Chess Olympiad has come to the country – the home of chess, Prime Minister Narendra Modi said on Thursday. Inaugurating the Chess Olympiad, Modi, who wearing a white shirt, white dhoti, and a white shawl with black and white check border, told the chess players and officials that it was an honour to have them here on such an important occasion. He also declared open the 44th Chess Olympiad, saying: "May the Games begin."
Quoting Thirukural, Modi said the whole purpose of earning and living is to be hospitable and India believes in 'Athithi Devo Bhava' – a guest is akin to the God.
Listing out the several firsts of the 44th Chess Olympiad – the first time the event is held in the game's place of origin, the first time it is Asia in three decades, having highest number of countries, teams participating and first time having the torch relay, he said the location of the event is more fitting.
Modi said Tamil Nadu has strong historical connection with chess and there is a Lord Shiva temple called Chathuranga Vallabha Nathar Temple at Poovanur village in the state's Tiruvarur district.
He also said that sports have the power to unite people and there are no losers.
"There are winners and future winners," Modi said.
He also drew the colours for the top seeded teams in the Open and Women's section.
In the women's section, the top-seeded Indian team will play with black pieces while in the Open category, the US team will also play with the same colour pieces.
Tamil Nadu Chief Minister M.K. Stalin said the state government has sanctioned Rs 102 crore for hosting the Olympiad.
He also thanked Modi for agreeing to inaugurate the event though the invite was made over phone from the hospital for Covid-19.
Earlier colourful cultural programmes showcasing India's traditional arts were held at the Jawaharlal Nehru Stadium here that entertained the audience that included the chess players from various countries, Union and Tamil Nadu Ministers, law makers, movie actors and others.
Young boy Lydian Nadhaswaram kept the audience spellbound playing the piano. And so was sand artist Sarvam Patel with his art.
Indian Grandmaster and one of the world's top women chess players K.Humpy administered the player's pledge.
The 44th Chess Olympiad will be held at the Four Points by Sheraton Mahabalipuram Resort and Convention Centre at Mamallapuram near here.
A total of about 350 teams from over 180 countries are participating in the 11 round event that will begin on July 29 at 3 p.m. The final round will be on August 9.
The FIDE has banned Russia and Belarus from participating in the event following Russia's military action in Ukraine.
In terms of the rating strength, probability of numbers and the absence of a couple of strong teams, India should figure in the Chess Olympiad medal tally and board prize list this year, unless something drastically goes wrong.
A total of 30 Indian players (men and women) in six teams (3 open and 3 women) will be vying to bring honours to the country.
Apart from the Olympiad, the polls to elect the new set of office bearers for FIDE will also be held at the venue.